Eureka Forbes National Recycling Program
Under the Indian government's E-Waste (Management) Rules, 2016
Eureka Forbes seeks equal responsibility and cooperation from its customers in reducing the harmful impact of electronic products.

Eureka Forbes abides by all the rules related to e-waste management. The Producer of Electrical and Electronic Equipment is responsible for managing equipment after its End-Of-Life' (EOL) and making a system for the collection of EOL/discarded equipment.

Eureka Forbes strives to create awareness amongst all its consumers about storage, handling and managing e-waste to protect the environment.

Eureka Forbes creates awareness amongst various stakeholders by publishing information in user manuals, packing cases, and publications and also imparting training, seminars, etc.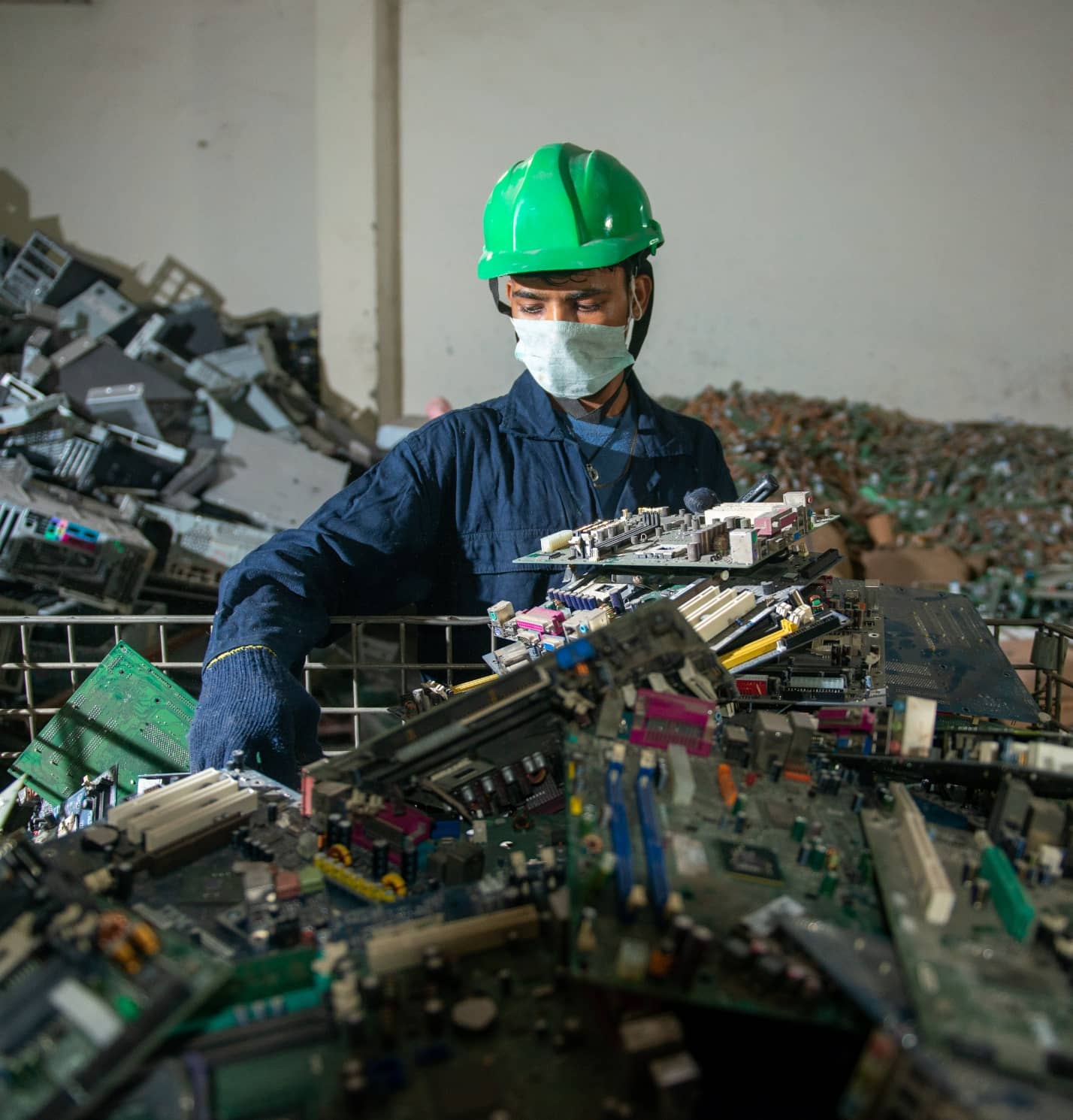 As a part of their e-waste recycling initiative, Eureka Forbes has also identified partners who are India's leading electronic asset management and disposal companies. Under this partnership, Eureka Forbes will provide e-waste drop-off centres and ensure environmentally safe management of electronics that have reached their end of life phase. The recycling and disposal of e-waste by the recyclers will help ensure the protection of the environment from any hazardous substances.
Explore the list of our e-waste collection centers
DOs of E-waste Recycling
O1 Look for information on the product catalogue for end-of-life equipment handling.
O2 Ensure that only Authorized Recyclers repair and handle your electronic products.
O3 Call EFL's E-waste Authorized Collection Centers to dispose of products that have reached their end of life.
O4 Drop the used batteries of your electronic products or any accessories when they reach the end of their life at your nearest Authorized E-waste Collection Center.
O5 Disconnect the battery from the product and ensure any glass surface is protected against breakage.
DON'Ts of E-waste Recycling
O1 Do not dismantle your electronic products on your own.
O2 Do not throw electronics into bins that have a "Do Not Dispose" sign.
O3Do not give e-waste to informal and unorganized sectors like local scrap dealers or rag pickers.
O4 Do not dispose of your product in garbage bins along with municipal waste that ultimately reaches landfills.
Common Questions
1. Which products can be recycled through this e-waste program?
‍
All split AC products manufactured, imported or sold by Eureka Forbes in India alone can be recycled through this program.
2. Do consumers have to pay to dispose of their products?
‍
Consumers do not have to pay any money either to Eureka Forbes or its authorized recycler for the collection and disposal of their products.
3. Which locations can the products be disposed of from?
‍
Eureka Forbes authorised recycler has a pan-India presence and products can be disposed of/collected from your doorsteps across all locations in India.
4. Once a call is registered on the toll-free number, how much time will it take for the authorised recycler to come and collect the product?
‍
It will take approximately 7-10 days for the authorized recycler to come and collect the product from your residence/premises. However, this period may vary depending on the location. Eureka Forbes being a mere facilitator shall not be responsible for any delay in this regard.
5. Can I drop off my products at the nearest Eureka Forbes dealer or Service Centre?
‍
No, the product has to be handed over to the authorised recycler only.