Aquaguard Absolute Hot N Ambient N Cold RO+UVWater Purifier
With storage tank of 16.6 litres that makes it ideal for offices and would help keep your employees healthy.
Top Features
Hot Cold & Ambient water On Demand

Dispenses hot ambient and cold water as per your needs.

Universal Water Purifier

Ensures the purifier works with multiple sources of water with TDS levels up to 2000. mg/lts.

Three Steps to Safe Water

Aquaguard Hot & Cold (RO+UV) Water Purifier has 3 core technologies which mean that what you get out of your machine is much better than what goes in.

RO Purification

Removes contaminants like lead and mercury and eliminates disease-causing viruses and bacteria.

In-Tank UV

In- tank UV technology removes waterborne organisms that may cause diseases. The Ultra Violet lamp inside the tank purifies the water and wipe out harmful viruses and bacteria.

Biocote

Biocote technology protects the surface of the purifier against any possible microbial growth.

High Water Storage

High water storage capacity for a constant supply of fresh water. Gravity-fed storage tank providing additional stored water, ideal for areas where there may be disruptions to the water supply Drip tray drainage for convenience.
Technical Specifications
Dimensions MM (WxDxH)

1140 x 340 x 380 mm

Installation Type

Table Top

Storage Capacity

12 litres and above

TDS

500 - 2000 mg/l

Water Flow Rate

15 l/hour

Input Water Pressure

0.3 kg / sq. cm - 3.0 kg / sq. cm

Input Water Temperature

10°C - 40°C

Input Water Chlorine (Max)

0.2 mg/l (max.)

Input Water Turbidity (Max)

15 NTU (max)

Input Water Iron

0.3 ppm (max.)

UV Lamp

8 Watts

Life of UV Lamp

8000 burning hours

Voltage

NA

Power

550 watts

Operating Input Voltage

230V AC / 50 Hz

Country of Origin

India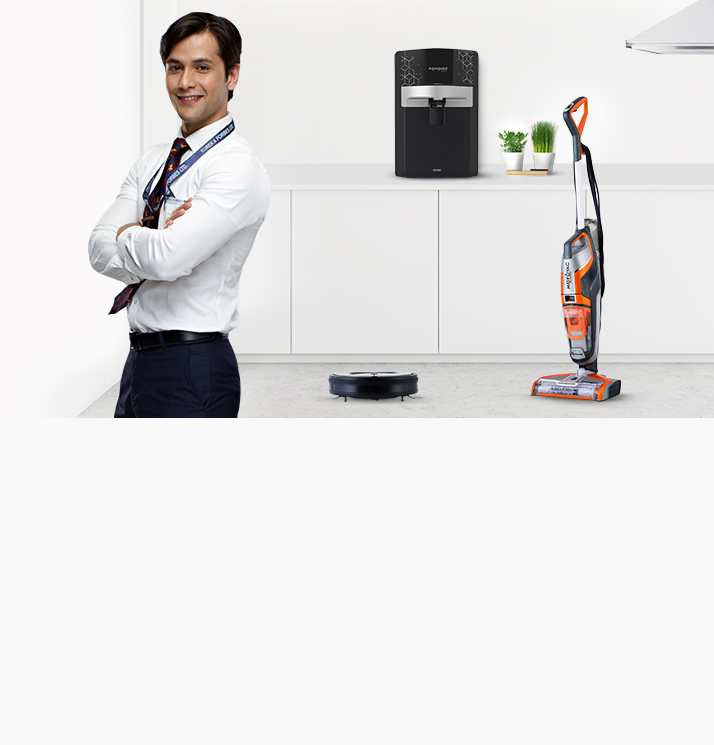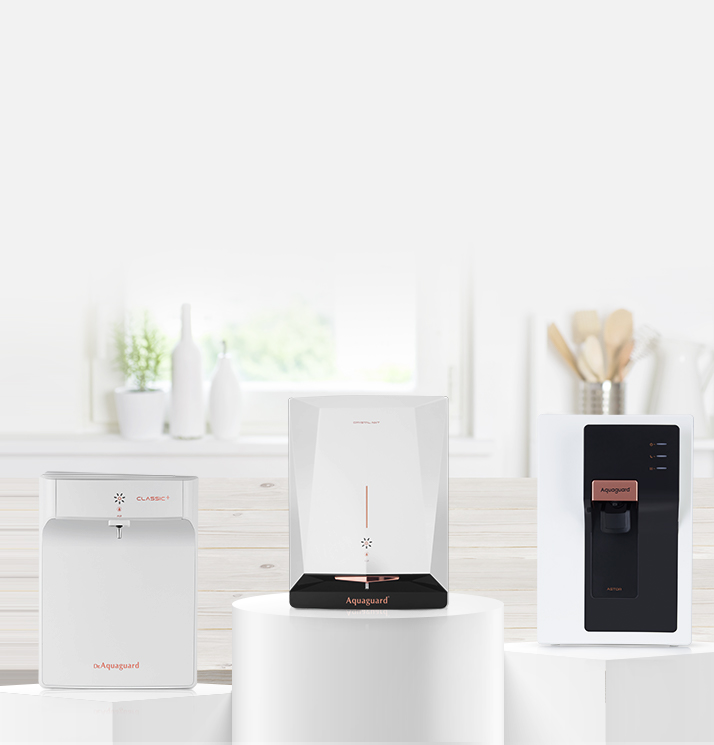 Benefits of buying from Eureka Forbes
‍

30 Days Money
Back Guarantee*

‍

Free standard
installation*

‍

Online order
tracking

‍

20+ Million
happy customers

‍

Secure
payments
Common Questions
Why is it essential to have a water purifier?
‍
Water may contain various impurities which are harmful to the body like dust, mud, rust, pesticide residue, lead, mercury, arsenic, viruses and bacteria, as well as many organic and inorganic particles. These organic and inorganic impurities when dissolved in water are called Total Dissolved Solids (TDS). Aquaguard water purifiers are designed to remove these impurities from water. Aquaguard water purifiers not only provide pure water, but also healthy water infused with the goodness of essential minerals like copper, calcium, magnesium, and zinc.
How does Aquaguard purify water?
‍
Aquaguard water purifiers are equipped with Multiple technologies to Purify water. 1) Reverse Osmosis (RO) Filtration: Reverse Osmosis (RO) purifiers pass water under high pressure through a semipermeable membrane to filter out excess Total Dissolved Solids (TDS) from water. This process is similar to passing water through extremely fine membrane which will only allow pure water to pass removing all the impurities. Aquaguard purifiers are designed for high water savings and retention of natural minerals. They can remove physical impurities, chemicals, pesticides, biological contaminants and heavy metals (lead, mercury, arsenic) to give pure and Healthy drinking water. RO+UV+MTDS purifiers are ideal for treating water with a TDS level of upto 2000 mg/litre. 2) Ultra Violet (UV) Purification: UV wáter purifiers use Ultraviolet rays at ~253.7 nm to inactivate virus and bacteria in water. They provide water as safe and pure as water boiled for over 20 minutes. UV technology is ideal for treating water having TDS upto 200 mg/litre.
Does a water purifier remove minerals?
‍
Aquaguard will not reduce essential minerals from water. It comes with Patented Mineral Guard Technology that helps retain essential natural minerals like calcium and magnesium , which ordinary water purifiers deplete during the purification process.
Which type of water purifier is best for home?
‍
Different water conditions require different technologies to purify water. Water with High TDS (0 - 2000 mg/litre) requires RO purification. UV technology is best suited for purifying water with Low TDS (upto 200 mg/litre) .
Which purifier is good for your health?
‍
Only Aquaguard comes with patented Active Copper and Zinc Booster cartridge which infuses the goodness copper and zinc in water. The copper and zinc infusion is as per standards set by Indian government (BIS 10500:2012) and is safe to drink for all age groups.
Which water purifier is best for borewell water?
‍
In general, borewell waters have a TDS range of 0 – 2000 ppm. Aquaguard water purifiers equipped with RO+ UV+ MTDS are recommended for Borewell water. These reduce excess TDS in water to give you pure and healthy drinking water.
What is UV water purifier?
‍
UV e-boiling employs ~ultraviolet rays at 253.7 nm to kill viruses and bacteria in your water. This disinfection process is fast and safe. It delivers water that is as safe and pure as water boiled for over 20 minutes. Ideal for treating water with a TDS level of 1 - 200 mg/litre. It is best used to purify water from municipal water sources like dams, lakes and rivers.
Do you need to boil or filter purified water again?
‍
Aquaguard's RO+UV e-boiling technology provides water as safe as water boiled for 20+ minutes, hence there is no need to boil purified water.
How can I be sure that the water from my Aquaguard is safe?
‍
Aquaguard water purifiers are equipped with health protect technology which not only alerts the users when filters reach end of life but also stops the functioning of the water purifier to ensure safe water or no water. Aquaguard strictly follows quality norms at its manufacturing facilities, Aquaguard also offers water testing at its Water Labs (major cities) where they collect your water samples and test it at a very nominal charge.
How long can the Aquaguard purified water be stored?
‍
For hygienic & safety reasons, it is preferable to replace the stored water after two days, when not used. It is also advisable to store Aquaguard water in a cool and clean place, preferably in clean food grade steel, glass or food grade plastic containers. Avoid matkas (clay pot) or storage filters as they tend to breed microorganisms.
What is the power consumption of Aquaguard water purifiers?
‍
The consumption of electricity in water purifiers is negligible compared to other electric equipment in your house. UV water purifiers: Aquaguard UV has a power rating of ~25 watts. It consumes ~2-5 units in a year in which it can purify 6000 litres of drinking water. On an average, we use 15 L of purified water per day in a house. (Power consumption may vary slightly for different models) RO+UV water purifiers: Aquaguard RO+UV has a power consumption of ~45 watts. It consumes ~10-17 units current in a year in which it can purify 6000 L of drinking water. On an average, a family of 4 uses 15 litres of purified water per day in a house. (Power consumption may vary slightly for different models & basis usage)
Do you have any water testing facility of your own to test the water? What is the charge?
‍
Aquaguard has water testing facilities in major cities by name Aquachek. It provides complete chemical and micro biological test at a nominal fee.
Is there a service backup available for Aquaguard? Do you have any dedicated service helpline?
‍
It has the largest after sales network in India with over 1100 service centres and ~8500 trained service technicians. It has a dedicated service helpline which is active 24X7. The helpline number is 18602661177/18008901177.